New Hampshire Concrete Contractor
KDA Construction is a locally owned and operated company for all of your concrete installation needs in New Hampshire. Whether you are a business owner or homeowner looking for a concrete contractor, we are here to help get the project done.
Concrete Contractor In NH
Whatever your construction project is from a stamped concrete patio install to a concrete foundation, new steps, concrete driveways and floors you're going to want to bring in a professional in residential and commercial concrete. We know that having contractors at your property can be momentarily disruptive. We strive to deliver only the best experience and professional service, and you'll love the great quality of the final product.
As a New Hampshire concrete contractor we take the time to explain our services and process to our customers and ensure we clearly understand what you are looking for before getting to work. Concrete is a durable, long-lasting material, and we want to build equally long-lasting relationships with our customers, meeting their custom concrete construction needs for years to come.
Concrete is a modern construction product for floors, steps, walls, walkways, patios, pool decks, driveways, and more. With slip-resistant and decorative options, your home or business will make the neighbors stop and notice your well-installed concrete. Contact us today at (603) 721-9058 or fill out our online contact form.
Concrete Patios & Pool Decks
Patios are one of the most enjoyable locations in any house. From grilling out and watching the sunset in the summertime, to watching their children build snowmen in the winter, residents of New Hampshire have made countless memories on their patios. If your home doesn't already have a patio, don't just hire any patio contractor. Choose KDA Construction to install a patio for you. Nothing enhances the summer months more than a pool of your very own, but you'll need an excellent concrete deck for your pool, too. Concrete is perfectly suited to this task due to its high durability. It can also be customized in many ways with decorative stamping.
While residential foundations usually deal with less heavy loads than their commercial counterparts, these foundations play an important role, too. Your new home needs a reliable foundation to continue serving you and your family for decades to come. The team at KDA Construction is more than ready to install a great concrete foundation for you.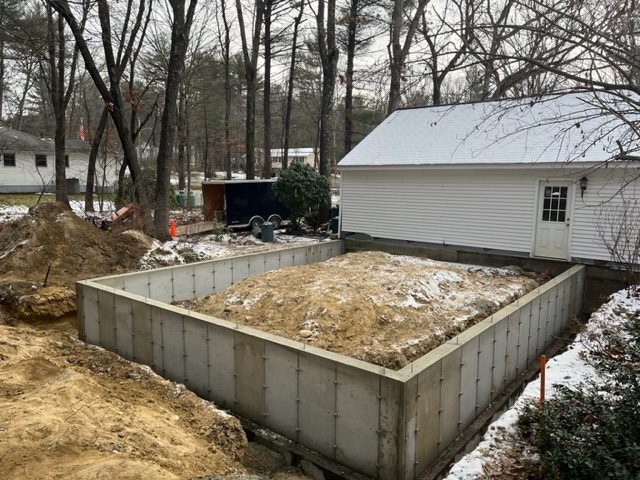 Why Choose KDA Concrete Construction
Your new concrete project is important to you, and you want to ensure the company you hire takes the proper steps to get the job done right. You expect the finished product to be immaculate, with little headache on your part, completed on time and within the established budget. You want the company with the latest technological innovations and an eye for the small details that mark the difference between a good job and a great job. That's why KDA Construction is your full service concrete company for the New Hampshire area.
Contact KDA Construction at (603) 721-9058 or fill out our online contact form.